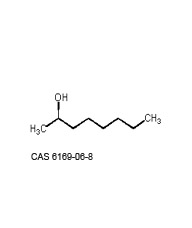 L/D configuration
D(+)-2-Octanol
Conversion Rate
1.425-1.427
Water Solubility
1g/L(20℃)
Character
colorless transparent liquid with odd smell
Chemical Purity
≥99.5%(GC)
Specific Rotary Power
[+9.0]
—[+10.0](254nm,20℃, neat)
Water Content
≤0.3%(Karlf ischer method)
Building blocks for liquid crystals chiral compounds.
One simple chiral alcohol as one building block for synthetic organic chemistry, such as human medicine and
agriculture chemistry.
Risk Statements
R36/37/38
Safety Statements
S26/S36
Other:
More options with higher chemical purity and optical purity
Packing and Transportation
Aluminum bottle with plastic seals
Min. order with 15g
Air shipment according to Dangerous Goods Regulations. Ocean shipment and Land shipment approval.
(R)-(-)-2-Octanol
[CAS 5978-70-1]
!Last Modification: 2011-9-3