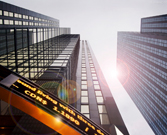 Beijing Lyra Material-Tech Company Limited (short as Lyra Tech) is a professional manufacturer of fine chemical materials. Lyra Tech is located in Zhongguancun Science Park, Beijing.
Utilizing the wide variety of advanced science and technology sources in Beijing and an in-house development team of chemists and engineers, Lyra Tech has made great strides in chiral dopants and other fine chemicals. With expertise in the production and particularly in purification, Lyra Tech has become a leader in this field and has earned approvals from both domestic enterprises and overseas purchasers.
Lyra Tech is also fully capable and equipped for custom manufacturing. Various fine chemical materials can be developed and produced to customer specifications.
Our goal is the success of our customers and continuous improvement. We hope our high quality products can contribute to the success of your business and welcome contact from all interested parties.